PPC Advertising & Conversion Rate Optimization for a growing solar energy company
Virtuoso Energy is a young and growing brand out of Alberta, Canada, who's core mission is to enable people to live more sustainable lifestyles. Their primary service offering is residential and commercial solar energy installations.
Key Accomplishments:
Cost per acquisition (CPA) was decreased by over 93%
Conversion rate increased from 1.2% to 12.6%
Cost per click (CPC) decreased by 36%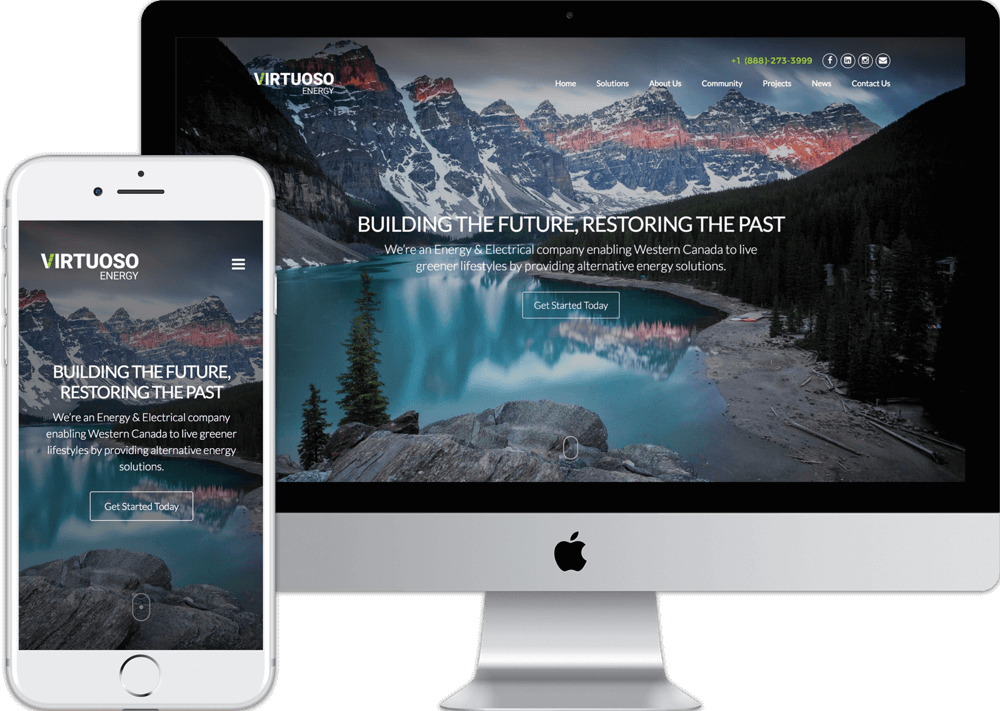 Virtuoso did not have a predictable way of bringing in consistent, quality and affordable in-bound leads into their business. Before contracting 250 Digital, they were running a Google Ads campaign, set up by themselves, that was producing some results but for a very expensive cost per acquisition (CPA). 
Google Ads, Bing Ads and Facebook Ads
250 Digital implemented intensive keyword research, enticing ad copy, utilizing SKAGs for increase quality scores and relevancy, and on-going optimizations, which lead to dramatic results. We began our Google Ads initiatives on a manual CPC bidding strategy, and over time, as we loaded Google's algorithm up with data, we further lowered CPAs and increased lead flow by initiating a target CPA (tCPA) bidding strategy. 
We primarily used Google Ads to generate leads, but we successfully supplemented lead flow with Bing Ads and Facebook Ads.
Conversion Rate Optimization
We worked on creating specific landing pages for each location they served and created them in such a way that increased conversion rates dramatically.
One of the most important things we implemented, after using screen recording and heat mapping software to understand in detail how users were navigating their website, was a "false form" with a jump link above the fold on their website, which helped direct the traffic to our primary call-to-action (CTA), resulting in increased conversion volume. We created forms in the client's Hub Spot CRM so that every lead that came through was automatically added to their CRM and an automated message was sent, removing a lot of manual labour on the client's end, improving efficiency and saving them time and money. One of the strategically designed landing pages can be seen here: solar energy landing page.
We also improved the user experience, and streamlined the client's workflow, by creating a custom "thank you" page after a lead submits their information that let the customer know what to expect next and asked them to submit some further documentation to expedite the quoting process.
We modified this client's H tags, URL structure and meta data to help search engines better understand what services the client offers and the locations they serve.
Cost per acquisition (CPA) was decreased by over 93%
Conversion rate increased from 1.2% to 12.6% (950% increase)
Cost per click (CPC) decreased by 36%
2000+ leads generated to date
Hundreds of thousands of dollars added to client's bottom-line
Dominated the top Google Ads results for 2+ years straight
Helped them become and be seen as a leader in their space
"I have had the pleasure of working with Will and team at 250 Digital over the last 3 years and they have consistently exceeded my expectations. The work they performed for the company I work for (Virtuoso Energy) was done in a manner which is rare to see in today's business world. Typically most companies can only execute on two of the following things: price, quality and timeliness. 250 Digital was able to excel in all three areas and I highly recommend them to anyone looking to grow their business!"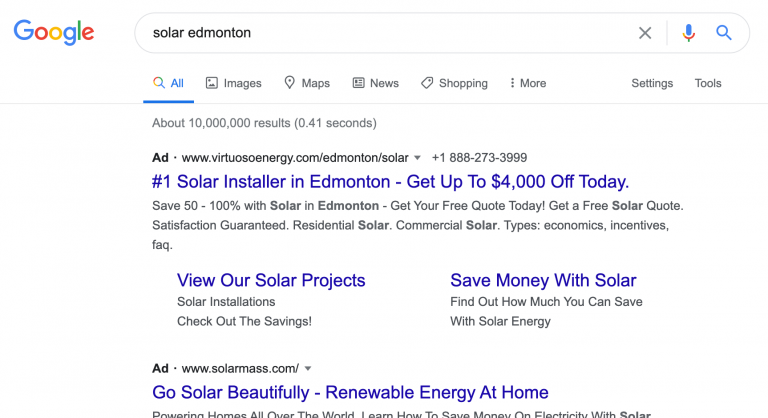 Ready for improved PPC performance?
Get your free proposal now.