PPC Advertising & Conversion Rate Optimization for a growing solar energy company
Shift Energy Group is a renewable energy and energy savings company located in Victoria, BC, Canada and serving residential and commercial clients across Western Canada. They primarily provide solar panel installations, commercial LED lighting retrofits and electric vehicle charging station installations.
Key Accomplishments:
Generating 50 – 100 leads monthly
Dominated the top Google Ads results for 2+ years straight
Hundreds of thousands in revenue added to bottom-line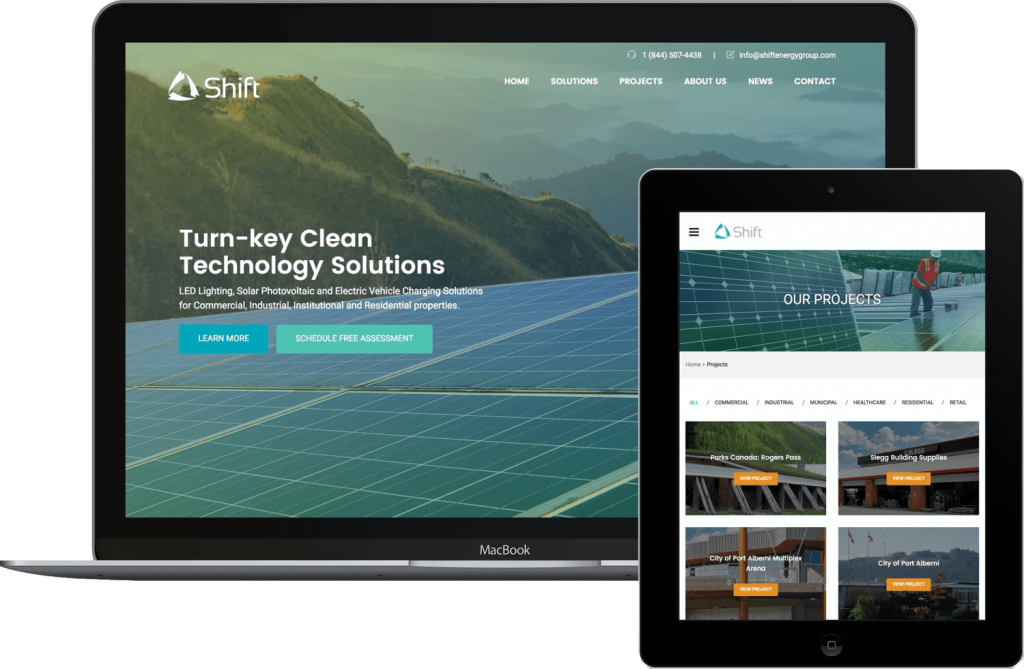 Shift Energy Group did not have a predictable way of bringing in consistent, quality and affordable in-bound leads into their business. Before contracting 250 Digital, Shift relied on the outreach of sales staff and word of mouth to obtain new business. This was inefficient and not scalable to reach their desired revenue goals.
Google Ads, Microsoft Ads and Facebook Ads
250 Digital began solving this problem by setting up both highly targeted Google Ads and Facebook Ad campaigns. Within just a few months, we were generating Shift 50 – 100 leads every month. The Google Ads and Facebook Ads campaigns were bringing in high quality, high intent leads through their website. We had exceptional success with Google Ads in our targeted locations, which we then duplicated to the Microsoft Ads platform to supplement lead flow. We determined that the sales cycle of their high-ticket offering was around 6 to 12 months, and we knew that potential customers were seeking multiple quotes from other competing vendors. Knowing this, we set up a retargeting campaign on the Google Display Network to follow all users around the internet for around 6 months if they did not submit a request for a quote from the client. This helped tremendously for brand exposure during the buying cycle, keeping Shift top of mind.
Conversion Rate Optimization
One of the most important, and often overlooked by other companies, aspects of running a successful pay-per-click (PPC) marketing campaign is ensuring you are running the traffic to a website or landing page that is designed to convert visitors into leads. With Shift, we created a highly optimized landing page on their website to run Google Ads traffic to and we did the same for their Facebook Ads campaigns. These pages were designed to lead the visitor to one complete one of two actions, either fill out a request for a quote form, or call the sales team. If they didn't complete any of these actions, they were retargeted with display advertising until they wither completed one of the actions or didn't, at which time they would be removed from our retargeting list. The Facebook Ads landing page can be seen here:
solar facebooks ads landing page
and Google Ads landing page can be seen here:
google ads landing page for solar
.
We modified this client's H tags, URL structure and meta data to help search engines better understand what services the client offers and the locations they serve. This helped them rank higher for relevant search terms, as well as increasing our Google Ads quality scores. We also helped them set up and optimize a Google My Business (GMB) listing, which helps for local SEO rankings.
Created a consistent flow of in-bound leads with Google Ads, Facebook Ads and Microsoft Ads
Generated 50 – 100 leads monthly
Maintain a low cost per acquisition (CPA) and helped improve it over time with ad optimizations
2000+ leads generated to date
Hundreds of thousands in revenue added to bottom-line
Dominated the top Google Ads results for 2+ years straight
Helped them become and be seen as a leader in their space
"... Will's intuitive approach has helped bring credibility to our corporate image & his online lead-gen campaigns and landing pages have been successful in bringing us targeted leads. He is proactive, interested and always open to feedback from the other end."
Ready for improved PPC performance?
Get your free proposal now.