Google Ads & Conversion Rate Optimization for a growing plumbing & heating company
JD Plumbing & Gas Inc. is a young and growing plumbing and gas company in Nanaimo, BC. They serve residential and commercial clients, with everything from fixing taps, installing water heaters and gas fitting.
Key Accomplishments:
400+ service calls generated
Eliminated competitor click fraud
Used algorithmic bidding strategies to get CPA to below industry standard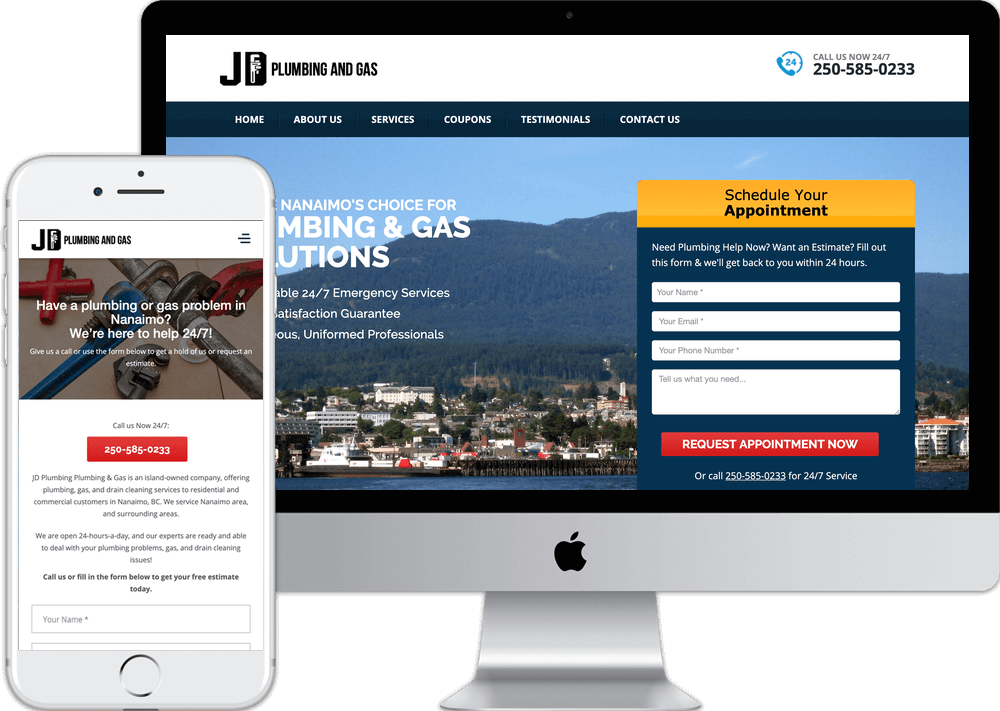 Prior to contacting 250 DIGITAL, The owner of JD Plumbing & Gas was running his own Google Ads. A poor account structure, lack of negative keywords and an uncontrolled bidding strategy was costing his business a significant amount of money on irrelevant clicks and they did not have conversion tracking installed, so there was no way of knowing what ads were leading to phone calls or contact form submissions, or even if they were making money or losing money on advertising initiatives. We also quickly determined there was competition that was clicking his ads, exhausting their ad budget prematurely on a daily basis.
We completely re-worked the Google Ads account. Taking them off of the Google Smart Campaigns that they had built and moving them to a tightly structured traditional Google Ads set up with different ad groups for each of the primary services they offer.
We used click fraud software to determine that competitors in our local area were clicking our ads most days, exhausting our daily budget early in the morning. We found and blocked the problematic IP addresses and haven't had a problem with click fraud since.
Additionally, we set up robust conversion tracking so we can determine what keywords and what ads are leading to what phone calls and requests for quotes. Now we can make intelligent decisions based on data to improve their ad performance and improve ROI.
Conversion Rate Optimization
We worked on creating specific landing pages for each service they offer and created them in such a way that increased conversion rates dramatically. The original services pages can be seen here: original landing page and the conversion focused landing pages we made can be seen here: plumbing google ads landing page.
We modified this client's H tags, URL structure and meta data to help search engines better understand what services the client offers and the locations they serve.
Over 400 service calls generated

Eliminated competitor click fraud
Used algorithmic bidding strategies to get CPA to below industry standard
Helped in creating a steady flow of service calls
Helped them become the top advertiser in their area
Ready for improved PPC performance?
Get your free proposal now.